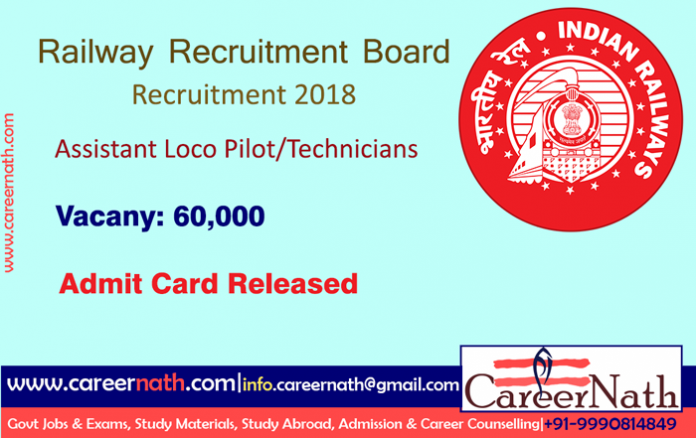 Today the Railway Recruitment Board has released the admit card and updated exam schedules for Assistant Loco Pilot and Technicians. The admit card can be downloaded 4 days before the schedule exam date.
In a email send to each registered candidate the Director of RRB said that
"Dear Candidate,
Please note that more than 47 lakh candidates have applied for ALP & Technicians Examination against CEN 01/2018. Maximum care has been taken to allocate centres to the candidates in their own or nearby cities. About 40 lakh candidates (83%) have been accommodated within 500 Kilometres. Priority has been given to women and Divyang (Persons with Disabilities) candidates in allocating centres within their own or nearby cities.
However, in few states, the candidates have applied in very large proportions as compared to the available capacity of suitable exam centres, equipped with requisite critical security features. From Bihar about 9 lakhs, from UP about 9.5 lakhs and from Rajasthan about 4.5 lakh candidates have applied and hence interstate movement of some candidates from these states is inevitable. Here again it has been ensured that the candidates who had applied early have been accommodated in their own or nearby cities and states, whereas those candidates who had applied late, towards last date of application have been allocated to farther cities.
It is also to be noted that the notified 26,502 vacancies are spread over different Railway Zones and States and candidates from all over India have applied against these pan India vacancies.
In conventional recruitment pattern, exams were conducted in decentralized manner by different RRBs and candidates travelled to the respective RRB zones to which they had applied. Centralized Computer Based examination provides the opportunity to reduce the travel requirements. That is how, about 40 lakh candidates have been allotted centres in their own/nearby cities and almost all women and Divyang (Persons with Disabilities) candidates have been allotted centres within short distance of 200 Kms.
However, due to the constraint of availability of suitable exam centres, despite our best efforts, everyone could not be accommodated in their own/nearby cities.
You may also please note that the notified vacancies of 26,502 for the posts of ALP and Technicians are likely to be increased substantially to about 60,000 vacancies.
You are, therefore, requested to make necessary arrangements to appear in this examination, as scheduled.
With Best Wishes,
Chairpersons
Railway Recruitment Boards"
To Download your admit card click here