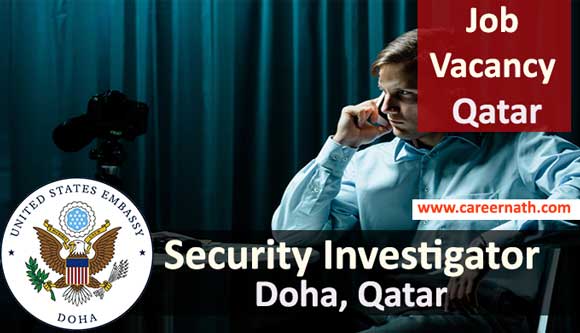 The US Embassy is inviting Job applications for the vacancy of 'Security Investigator' in Doha, Qatar which would entitle all International benefits. Interested candidates can check their eligibility and apply for this job post.


Job Post: Security Investigator
Location: Doha, Qatar
Organization: America, US Embassy, Doha
Salary: QAR ﷼141,335
Last date to Apply: 11th April 2022
Also Read: Check Out various other Job Vacancy in Embassy
Job Summary
The incumbent serves as a Foreign Service National Security Investigator (FSNI). Ongoing responsibilities include all routine background checks, conducts investigations under the direction of the Regional Security Officer (RSO), and provides protective support to the U.S. Ambassador and visiting U.S. dignitaries. The incumbent develops and maintains liaison contacts with Ministry of Interior, Police, Internal Security Force, and international businesses represented in Qatar.



The incumbent assists in developing all protective security arrangements for visiting dignitaries as directed by RSO and in coordination with the Government of Qatar. The incumbent serves as the primary advisor to the RSO on all local law enforcement and security impacting U.S. Government operations and interests throughout the State of Qatar.
Essential qualifications
Requirements:
EXPERIENCE: Three years of progressively responsible experience in security or investigative work with any U.S. government or foreign government law enforcement, private security or military agency is required.
Education Requirements: Completion of high school is required.
LANGUAGE: Level III (good working knowledge) in English and Arabic speaking/reading/writing are required.
SKILLS AND ABILITIES: Valid driving license is required