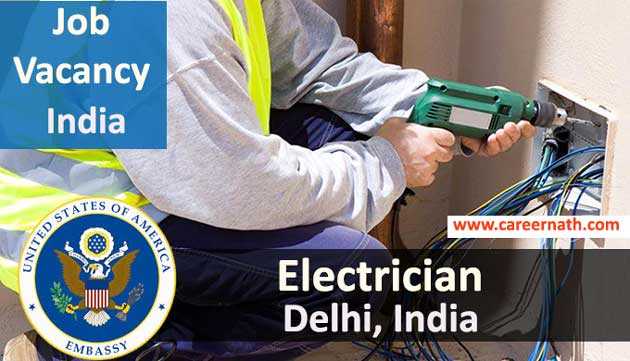 The US Embassy is inviting Job applications for the vacancy of 'Electrician' in Delhi, India which would entitle with all International benefits. Interested candidates can check their eligibility and apply to this job post.


Job Post: Electrician
Salary: INR ₹490,727 per year
Location: Delhi, India
Organization: US Embassy, Delhi
Last date to Apply: 11th January 2021
Also Read: Mechanical Engineer Job Vacancy at US Embassy in Delhi, India
Job Summary
Basic Function of the Position: Under the supervision of Electrical Foreman, the incumbent will be responsible for the installation, maintenance, and repairs of the electrical wiring system, related switches, light and power distribution panels, generator auxiliary panels, and outlet boxes along with a wide variety of electrical fixtures and appliances at all the Embassy residences including the Enclave Compound, totaling over 290 residences, and non-residential buildings. The incumbent will also perform other duties as assigned.
Essential qualifications
EXPERIENCE: Three years of experience as an electrical journeyman is required.
Education Requirements:
Successful completion of Secondary Schooling (Class 10) is required.
Completion of one-year vocational training in the electrical field is required.
LANGUAGE:
Level 2 (Limited knowledge) in English (Speaking, Reading, and Writing) is required.
Level 3 (Good working knowledge) in Hindi (Speaking, Reading, and Writing) is required.
How to Apply:
Please make sure you enter all your work experience and education through the ERA Application. Attached Curriculum files will not be considered.
For positions that require English Level, applications MUST be submitted in English.