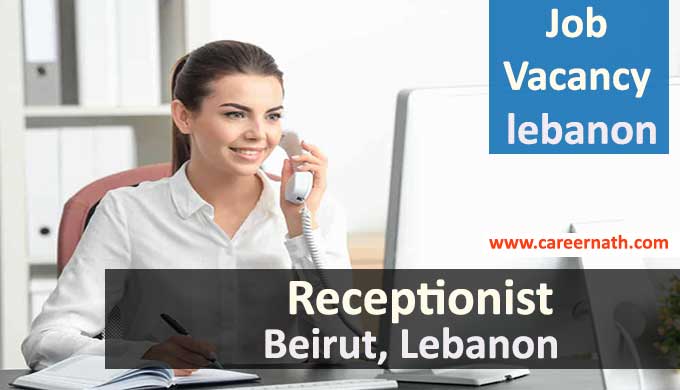 The British Embassy is inviting Job applications for the vacancy of 'Receptionist' in Beirut, Lebanon which would entitle all International benefits. Interested candidates can check their eligibility and apply to this job post.


Job Post: Receptionist
Location: Beirut, Lebanon
Salary: 1660 USD per month
Organization: British Embassy, Beirut
Last date to Apply: 20th August 2021
Also Read: Administrative Clerk Job Vacancy at US Embassy in Beirut, Lebanon
Job Summary
The primary role includes operation of the switchboard, greeting visitors and administrative tasks in support of the Corporate Services Section.
The position holder will work closely with the Corporate Service Assistant and will report to the Finance & HR Manager.
This role concentrates on the support for Finance and HR Manager particularly and the Embassy's work generally.
You will be responsible for providing high quality and customer focused to all staff in Beirut.
This is an excellent opportunity to work within a large and fast-paced team for someone with a proven track record in customer service, preferably in a similar role or demonstrating the skills needed to work in the field of service delivery.



Roles and Responsibilities:
Reception duties:
Acts as first point of contact to the embassy by answering/forwarding phone calls and receiving visitors.
Maintains reception security by following procedures, coordinating with the security hut and control room about coming visitors, issuing visitors' badges, while greeting them and informing the concerned employee.
Ensures that the telephone list, tree and emergency phone list is daily updated (removing / adding staff) and properly saved on the shared area.
Handles all visa and immigration inquiries by directing them to gov.uk
Ensures that all DHL mails, especially diplomatic bags, are well sent/received to the relevant departments.
Provides necessary support to all staff (local and UKBS) by guiding them when necessary.
Arranges ahead of time, ad hoc receptionist cover during own absence.
Assists the Corporate Service Assistant in chasing suppliers to send in timely invoices (example: Electricity and Ogero Bills).
Administers local staff insurance plan (medical) by providing new joiners with necessary forms to be completed, and ensures it is well sent to our insurance supplier.
Acts as main point of contact in getting approvals for laboratory tests and in hospital claims to all local staff.
Continuously updates the medical insurance tracker by adding all claims received from the staff; and ensures that all refund cheques are well delivered to concerned employee.
Processing insurance invoices by following internal policies (via GTPC sharepoint) while coordinating with GTPC in order to ensure that the invoices are successfully processed, and reports any discrepancy in the invoices to the corporate service assistant / Finance & HR Manager.
Leads on the annual staff survey to ensure staff participation and engagement at all time.
Assists the Corporate Service assistant in raising requisitions and PO's when required.
Responds to any additional request of the Corporate Service Assistant / Finance & HR Manager.
Handles fax machine including sending, receiving and forwarding to relevant recipient.
Maintains safe and clean reception area by complying with rules and regulations.
Essential qualifications
Excellent communication skills in English and Arabic and flexible team player
Excellent Business English writing skills
High motivation and energy
Excellent interpersonal with a strong customer focus
Numerate reliable and able to work under pressure and on own initiative following compulsory rules and procedures
Ability to pay attention to details
Self-starter and proactive
Fully conversant with Microsoft Office (word, excel, outlook and the internet)
High level of organizational skills and ability to multi task and deliver high quality work to deadlines
Diplomacy and sensitivity when dealing with clients
High level of confidentiality
Ability to meet strict deadlines
Bachelor in Business Administration