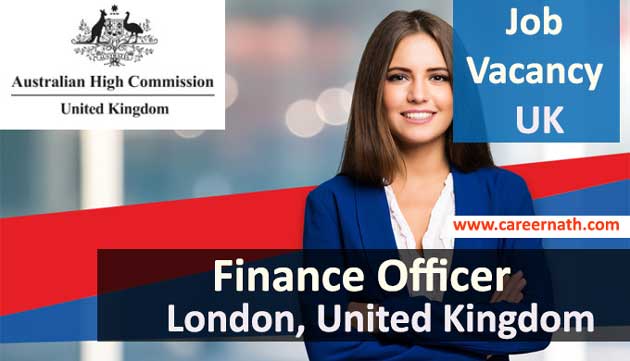 The Australia Embassy is inviting Job applications for the vacancy of 'Finance Officer' in London, the United Kingdom which would entitle all International benefits. Interested candidates can check their eligibility and apply to this job post.


Job Post: Finance Officer
Location: London, the United Kingdom
Organization: Australia Embassy, London
Salary: £36,668 per annum
Last date to Apply: 27th July 2021
Also Read: Various other Job Vacancy in Embassy
Job Summary
London is the Regional Corporate Services Delivery Hub for the European region and this position, under the direction of the Finance Manager and working alongside a team of Finance Officers and Finance Assistants is responsible for delivering accounts payable activities and providing practical finance support and advice to clients across the region. Working alongside the London Hub teams this position will also be responsible for contributing to the corporate modernization agenda, delivering process improvements, and efficient enabling services to clients.
Roles and Responsibilities:
The position is required to carry out duties in line with Commonwealth policy and legislation including the DFAT Finance Management Manual, the Public Governance Performance & Accountability Act, and the Privacy Act, as well as relevant local legalization.  The position holder must also be aware of the sensitive nature of the information and material handled by the Section upholding professional integrity, care, and confidentiality.
The key responsibilities of this role include, but are not limited to:
Provide advice to clients regarding finance policy and procedures as required and assist the Finance Manager in ensuring compliance with all relevant legislation and guidance
Assist the Finance Manager with periodic financial reporting procedures
Assist Finance Manager with driving and implementing finance projects as required
Support delivery of finance training to internal clients across region as required
Certification of payments and generating payments in a timely manner
Manage entitlement payment runs (payments include rent, hire furniture, allowances and utilities)
Manage the input and payment of salary payments for Attached Agencies and works closely with the HR team to finalise the LES and Pension payrolls
Monitor the various bank accounts for sufficient funds and advise management of discrepancies as they arise
Prepare and analyse the end of month documentation for the senior management
Generate finance manager reports and make recommendations as required
Assist clients with system queries and financial reporting (including but not limited to SAP FI and the payments application)
Offering support and assistance to other members of the team with regard to routine tasks such as vendor creation, management of advances and debtors, bank reconciliation, routine office expenditure invoicing, asset register, VAT claims and Fringe Benefit Tax (FBT) reporting
File and record keeping of financial documentation
Other duties as required
Essential qualifications
AAT (Association of Accounting Technicians) qualification, or equivalent qualification or professional experience
Excellent proficiency in Microsoft Excel up to an intermediate level
Proven aptitude for numerical reasoning
Excellent verbal and written communication skills
Proficient administration skills, including ability to collate information for reporting purposes
Ability to multi task and prioritise and manage varied workload is essential
Prior experience working in a professional office environment
SELECTION CRITERIA
Please address each of the selection criteria for the role in the spaces provided on the application form.  Drawing on your prior experience, please provide examples of where you have demonstrated the required competencies or transferable skills.
The word limit is strictly 250 words per response.  The panel will not assess responses that exceed the word limit.
A. Demonstrated ability to complete financial accounts processing, with attention to detail and accuracy, supported by a relevant accounting qualification or equivalent level experience.
B. Experience generating and analyzing financial and management accounting reports, including preparing month-end documentation according to relevant internal policy and completing appropriate investigations.
C. Proven ability to multi-task, manage competing priorities, demonstrate initiative, and meet tight deadlines in order to achieve results.
D. Proven ability to work collaboratively and collegiately with employees both within your immediate team and across all levels of the organization, fostering a performance-driven culture and promoting a positive customer service experience.
E. Excellent oral and written communication skills and demonstrated ability to liaise with and deliver advice effectively across all levels of the organization, including high-level internal and external stakeholders.  Ability to communicate confidently and appropriately with diverse audiences.
F. Proficiency with SAP (or other financial accounting systems) and Microsoft Office suite, with an intermediate or advanced level on MS Excel.  Provide examples of reporting tasks completed using relevant systems to demonstrate proficiency.