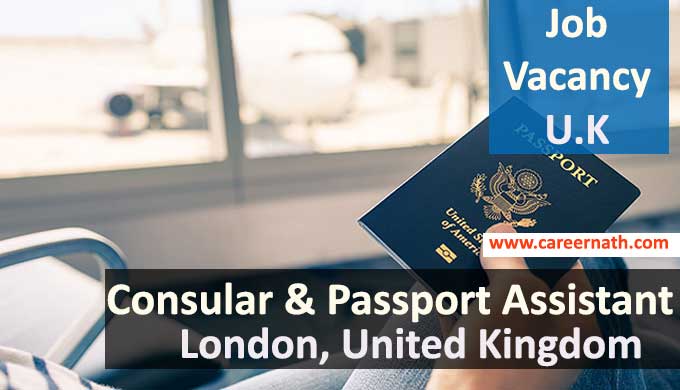 The Canada Embassy is inviting Job applications for the vacancy of 'Consular & Passport Assistant' in London, the United Kingdom which would entitle all International benefits. Interested candidates can check their eligibility and apply to this job post.


Job Post: Consular & Passport Assistant
Location: London, the United Kingdom
Organization: Canada Embassy, London
Salary: £33,277 p.a. plus excellent benefits. per annum
Last date to Apply: 12th August 2021
Also Read: Various other Job Vacancy in Embassy
Job Summary
Under the general supervision of the Consular Officer, the incumbent processes citizenship applications; The incumbent will work with clients who provide applications by mail or present themselves in person, often in distress, seeking emergency consular services. The incumbent may maintain a register of citizenship applications; provide consular support services to Canadians; respond to general wrote and verbal enquiries, and performs administrative duties; performs other duties.
Essential qualifications
Candidates will initially be screened against the Essential Qualifications relating to education, experience and language. Candidates must clearly demonstrate in their cover letter and Curriculum Vitae (CV) how they meet each of these essential qualifications. Only candidates who meet all the Essential Requirements will proceed to the next stage of the process.
Language:
• Fluent* in English and French (oral, written, comprehension).
* Fluency will be assessed by a variety of means including written assessment and interview.
Education: A levels or equivalent.
Experience:
• The candidate must have a minimum of 1-year of experience working in an office environment in administrative support or program assistant capacity.
Rated Requirements:
The Rated Requirements relating to knowledge, abilities, and competencies will also be assessed. Methods of assessment may include, but are not limited to, a written or online examination, an oral interview, role-play, practical tests, presentations, psychometric assessment, and/or reference checks.
Knowledge/Abilities/Competencies:
• Proficiency with computers, office software, and other hardware
• Ability to adapt to/learn quickly new work and processes
• Attention to detail
• Ability to work under pressure
• Ability to prioritize work and get the work done
• Ability to work effectively within a team, independently and with supervisors
• Judgment
• Client Focus
• Professional Integrity (values & ethics)