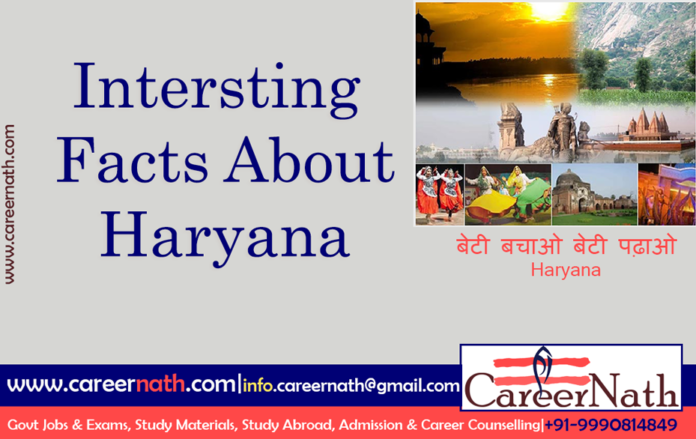 Interesting Facts About Haryana
Haryana often termed as food bowl of India, the 19th state of Union of India which came into existence on 1st Nov, 1966 on linguistic basis from state of Punjab has proved its mettle from agriculture to science and technology to sports area is now among the most health and wealthy states of India.
Haryana the land of dhoodh, dhai, ghee and lassi where 70% of population lives in villages is thieving and has proved that economy can be built from villages also. Haryana has added number of interesting facts in its wallets which are:
In the 2010 Commonwealth Games at Delhi, 22 out of 38 gold medals that India won came from Haryana. During the 33rd National Games held in Assam in 2007, Haryana stood first in the nation with a medal tally of 80, including 30 gold, 22 silver and 28 bronze medals.

Haryana is home to Haryana Gold, one of India's eight professional basketball teams which compete in the country's UBA Pro Basketball League.

The Haryana and Delhi governments have constructed the 4.5-kilometre (2.8 mi) international standard Delhi Faridabad Skyway, the first of its kind in North India, to connect Delhi and Faridabad.

The Haryana Roadways is considered as, the best and most profitable transport system run by any state in India.

Haryana was the first state in the country to achieve 100% rural electrification in 1970 as well as the first in the country to link all villages with all-weather roads and provide safe drinking water facilities throughout the state.

Haryana's IT capital Gurugram would be the first city to be developed under smart city projects launched by center government.

Also, Gurugram ranks number 1 in India in growth rate and existing technology infrastructure, and number 2 in startup ecosystem, innovation and livability (Nov 2016).

Haryana has two national parks, eight wildlife sanctuaries, two wildlife conservation areas, four animal and bird breeding centers, one deer park and three zoos, all of which are managed by the Haryana Forest Department of the Government of Haryana

Desi Haryanvi folk music (Haryanvi country folk music) The country-side or desi (native) form of Haryanvi music is based on Raag Bhairvi, Raag Bhairav, Raag Kafi, Raag Jaijaivanti, Raag Jhinjhoti and Raag Pahadi and used for celebrating community bonhomie to sing seasonal songs, ballads, ceremonial songs (wedding, etc.) and related religious legendary tales such as Puran Bhagat.

Hemu, who was king of Hissar had defeated Akbar's forces twice at Agra and the Battle of Delhi in 1556 to become the last Hindu Emperor of India with a formal coronation at Purana Quila in Delhi on 7 October 1556.

The name Haryana is found in the works of the 12th-century AD Apabhramsha writer Vibudh Shridhar (VS 1189–1230). The name Haryana has been derived from the Sanskrit words Hari (the Hindu god Vishnu) and ayana (home), meaning "the Abode of God".

Haryana has the poorest sex ratio among all Indian states. To cater to this situation recently, Haryana Government under the leadership of CM Manohar Lal Khattar has launched flagship program "Beti Bachao Beti Padao" that aims to generate awareness and improve the efficiency of welfare services intended for girls.

The state has a rich heritage and past. The Mahabharata's battle was fought in Kurukshetra, which is now a district in Haryana.

Haryana once housed a 32-lane toll plaza on the Gurgaon-Delhi border. It was the biggest toll plaza, not only in India, but also in Asia! It's shut down now.

Panipat Refinery the second largest refinery in South Asia.

Kurukshetra (Ladwa) has the second largest grain market in the Asian continent.

The Murrah breed of Water buffalo is a breed of domestic water buffalo kept for dairy production. Its home tract stretches around the southern parts of Haryana comprising the districts of rohtak, Jind, Hisar, Jhajhar, Fatehabad, Gurgaon and the Union Territory of Delhi. The famous Murrah buffalo named Yuvraj is said to produce $3000 worth semen in a single ejaculation.

T

he Rajiv Gandhi Education City Kundli when completed would be world largest education city with 5000 acres of land and various sprawling campus of almost every course on planet Earth.

The handloom and carpet industry of Haryana are well renowned in the country. The world also recognizes the exquisite workmanship of Panipat handlooms and carpets.

The National Dairy Research Institute (NDRI), Karnal is India's premier institute for dairy research. The institute was accorded the status of Deemed University in the year 1989.
Famous Personalities of Haryana
Savitri Jindal: Richest woman in Asia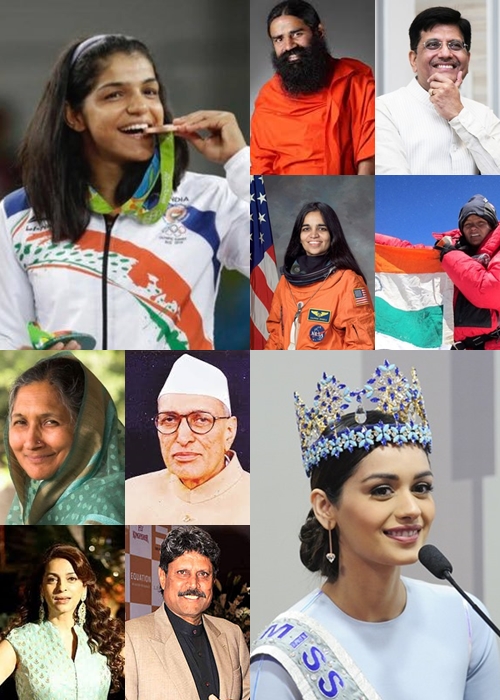 Boxing: Mahavir Singh Phoghat, Geeta Phoghat, Sakshi Malik
Saina Nehwal -International Badminton Player
Ajmer Singh – Arjuna Awardee Basketball player, declared the "10th best pivot player" of the world.
Manushi Chhillar, is an Indian model from Sonipat and beauty pageant titleholder who was crowned Miss World 2017
Vijender Singh -2008,Beijing Olympic Medalist.
Kapil Dev – Cricketer
Virender Sehwag -Indian Cricketer.
Ashish Nehra – Indian Medium fast bowler
Sushil Kumar – 2008 Olympic bronze medalist,2012 Olympic silver medalist
Yogeshwar Dutt -2003 Commonwealth Games Gold Medalist.
Baba Ramdev – Yoga Guru of India
Mahendra Chaudhry – Former Prime Minister of Fiji
Kalpana Chawla – NASA astronaut who died on the Space Shuttle Columbia STS-107 mission
Bollywood Actor: Om Puri, Randeep Hood, Sunil Dutt, Juhi Chawla
Editorial Cartoonist: Shekhar Gurera
Sonu Nigam Singer
Om Prakash Jindal – Former Member of Parliament, Haryana Power Minister, Founder – Jindal Group of Companies
Subhash Chandra – Founder Zee TV, Chairman ESSEL Group.
Santosh Yadav, born in Joniyawas, Rewari. Scaled Mt. Everest Twice in One Year.
General Deepak Kapoor, Chief of the Army Staff (India) 2007–10.
General VK Singh, Chief of the Army Staff (India) 2010–12.
General Dalbir Singh Suhag, Chief of the Army Staff (India) 2014-2016, born in Bishan village, Jhajjar, Haryana
Piyush Goyal: Minister of Railway & Finance.
Bansi Lal: Famous Haryana Politician
Click here: to view Government Jobs opening in haryana