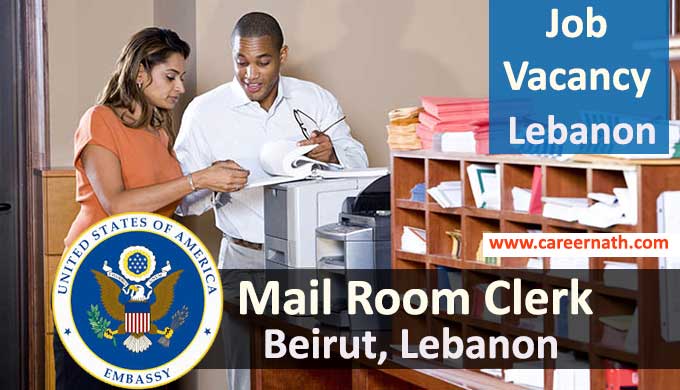 The US Embassy is inviting Job applications for the vacancy of 'Mail Room Clerk' in Beirut, Lebanon which would entitle with all International benefits. Interested candidates can check their eligibility and apply to this job post.


Job Post: Mail Room Clerk
Salary: LBP £21,445,608
Location: Beirut, Lebanon
Organization: US Embassy, Beirut
Last date to Apply: 6th January 2021
Also Read: Office Manager Job Vacancy at British Embassy, Apply Now
Job Summary
The incumbent serves as a Mail Clerk in the unclassified Diplomatic Pouch and mail center, under the direct supervision of the Locally Employed Mail Room Supervisor. The incumbent receives and disseminates U.S. Mail and packages via the Diplomatic Pouch, local and DHL mail channels. The Mail Clerk must be able to lift bags up to 70 lbs/32 kg.
Essential qualifications
EXPERIENCE:  At least one year of mail handling, clerical or customer service experience is required.
Education Requirements: Completion of Secondary school is required.
Evaluations: This may be tested:
LANGUAGE: Level II (Limited Knowledge) English ability is required. Level II (Limited Knowledge) in Arabic is also required.
SKILLS AND ABILITIES:  Possession of a driver's license is required. Must display strong organizational skills and the ability for mail handling and reading of handwritten letters/packages. Must have basic proficiency with Microsoft Office applications.
Qualifications:
All applicants under consideration will be required to pass medical and security certifications.
How to Apply:
All candidates must be able to obtain and hold a Public Trust clearance.
To apply for this position click the "Submit Application" button.  For more information on how to apply visit the Mission internet site.