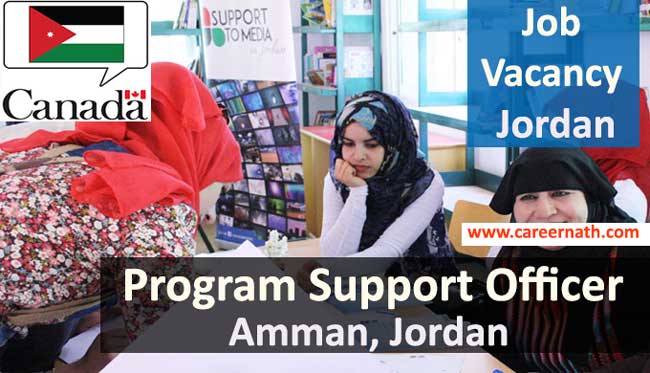 The Canada Embassy is inviting Job applications for the vacancy of 'Program Support Officer' in Amman, Jordan which would entitle with all International benefits. Interested candidates can check their eligibility and apply to this job post.


Job Post: Program Support Officer
Salary: Starting salary is 21,007.00 JOD per year with a pro-rated annual bonus of up to 3,501 JOD
Location: Amman, Jordan
Organization: Canada Embassy, Amman
Last date to Apply: 8th June 2021
Also Read: Various other Jobs in Embassy
Job Summary
Support the delivery of Counter Terrorism Capacity Building programming in Jordan by acting as liaison with the different agencies of the Government of the Hashemite Kingdom of Jordan and donor partners; preparing hand over ceremonies; support visits; draft reports on visits and hand over ceremonies and on thematic issues of interest;


monitoring local media; preparing content for the security programming social media posts; drafting press releases and speeches; and developing a plan for and carrying out project tracking and monitoring. The employee may also be required to support Global Affairs Canada's WMD Threat Reduction Program, particularly with regards to the organization of handover ceremonies and visits.
Essential qualifications
Education:
• Bachelor's degree from a recognized university with a major in a discipline related to the job requirements (e.g. business administration, political science, international relations, international studies, and International development studies) or an equivalent combination of education, training, and/or experience.
Language:
• Proficiency in English (oral and written)
Experience:
• Minimum one-year experience working in an office environment.
• Experience in organizing activities with partners.
• Experience in conducting research and analysis and in the drafting of reports.
• Knowledge of Canadian government priorities and polices in the Middle East.
• Knowledge of use of a range of computer applications, including but not limited to MS word, MS Outlook, MS Excel.
• Knowledge of project management, including budgets, monitoring, and reporting.
Abilities/Competencies:
• Ability to communicate effectively in writing and orally.
• Ability to work independently, manage priorities and meet tight deadlines.
• Ability to establish and maintain a network of contacts.
Personal Suitability:
• Be action oriented and demonstrate initiative.
• Exercise sound judgment within a global context
• Teamwork and cooperation.
• Effective interpersonal relations.
How to Apply:
For this position, please follow this link: http://chc.amris.com/wizards_v2/chc/vacancyView.php?requirementId=4488&
• Candidates can fill in the application in English or French only.
• The candidates must submit a one-page cover letter outlining your interest, availability and suitability for the contract. Candidates must identify in their cover letter how they meet all the essential requirements outlined under experience and education and as many of the asset requirements as relevant;