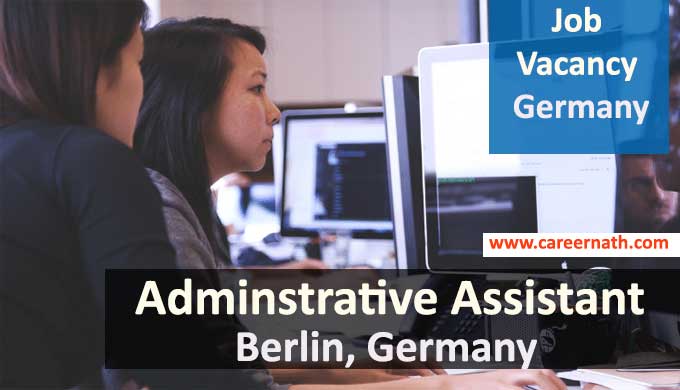 The Canada Embassy is inviting Job applications for the vacancy of 'Administrative Assistant' in Berlin, Germany which would entitle with all International benefits. Interested candidates can check their eligibility and apply to this job post.


Job Post: Administrative Assistant
Salary: The starting salary for a part-time position is 18,979 Euros gross per annum
Location: Berlin, Germany
Organization: Canada Embassy, Berlin
Last date to Apply: 16th June 2021
Also Read: Various other Jobs in Embassy
Job Summary
Canada's Trade Commissioner Service (TCS) is a worldwide network of professionals in international business development (IBD), with preferred access to business knowledge and contacts, who are committed to advancing Canadian commercial and economic interests abroad. This position contributes to the delivery of the IBD program at the mission by delivering services to clients in accordance with TCS policies and guidelines, and Government of Canada policies and priorities for international trade, investment, and innovation, with the objective of helping Canadian clients make better business decisions abroad. All Government of Canada employee activities are governed by the Government of Canada's Code of Values and Ethics.


Under the direct supervision of the Senior Trade Commissioner at the Embassy of Canada in Berlin, the Trade Commissioner Assistant provides daily administrative support and services; maintains and administers the Trade Program budgets, providing updates and projections on a regular and ongoing basis; provides and creates information and documentation; provides support for on-going trade program activities; responds to service requests from clientele and performs other duties as required.
Essential qualifications
Candidates will initially be screened against the Essential Qualifications relating to education, experience and language. Candidates must clearly demonstrate in their cover letter and CV how they meet each of these essential qualifications.
Education:
• Completed post-secondary degree or an equivalent combination of education, training and/or experience
Language:
• Fluent level (written and oral) of German
• Fluent level (written and oral) of English
Experience:
• Significant work experience* in an administrative position
*Significant work experience is defined as two years full/part-time experience
Rated Requirements
The Rated Requirements relating to knowledge, abilities and competencies will also be assessed. Methods of assessment may include, but are not limited to, a written examination, an oral interview, role-play, practical tests, presentations and/or psychometric assessment.
Knowledge:
• Knowledge of computer software (MS Office Suite, email, spreadsheets, Internet search)
• Knowledge of standard office procedures and practices
Abilities/Competencies:
• Focus on Quality and Details
• Teamwork and Cooperation
• Ability to plan/prioritize/organize/meet deadlines