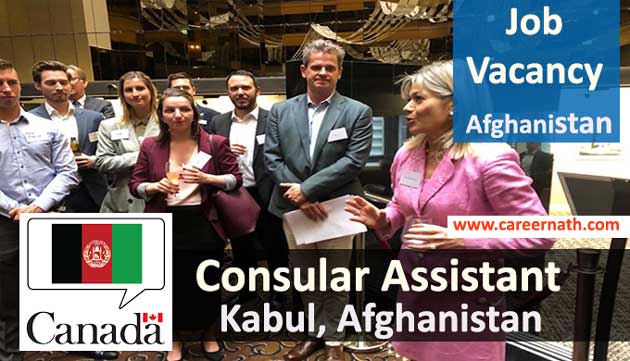 The Canada Embassy is inviting Job applications for the vacancy of 'Consular Assistant' in Kabul, Afghanistan which would entitle with all International benefits. Interested candidates can check their eligibility and apply to this job post.


Job Post: Consular Assistant
Salary: 37,042 USD per annum
Location: Kabul, Afghanistan
Organization: Canada Embassy, Kabul
Last date to Apply: 10th January 2021
Also Read: Administrative Manager Job Vacancy at SIDA in Stockholm, Sweden
Job Summary
Under the general supervision of the Deputy Management and Consular Officer, processes passport applications and citizenship documents for Canadian citizens in Afghanistan; provides consular support services to Canadians; and financial and accounting services in support of consular, passport and citizenship services provided at the mission; and performs other duties.
Ability to:
• Ability to communicate effectively both orally and in writing in English;
• Ability to analyse, evaluate information and exercise sound judgment;
• Ability to provide effective client service in person, by telephone and electronically;
• Ability to maintain composure when dealing with unusual situations or difficult clients;
• Ability to establish and maintain a network of contacts with local governments officials and other relevant service providers;
• Ability to type with accuracy and speed
Competencies:
• Professional Integrity
• Adaptability & Flexibility
• Ability to perform effectively while working under pressure and tight deadlines
• Focus on quality and detail
• Discretion
• Effective Interactive Communication
• Autonomy
• Interpersonal Relations & Respect
• Good judgement
• Self-motivated, reliable, dependable
• Teamwork and Cooperation
• Client focus
Essential qualifications
Education:
• Bachelor degree from a recognized university.
Language:
• Proficiency in English (reading, writing and speaking)
• Proficiency in Dari (reading, writing and speaking)
Experience:
• Minimum of two years of recent experience (in the last five years) in providing face-to-face client service to the public.
• Minimum of one year of recent experience (in the last five years) in data entry and/or using a web-based case/client/file management system.
Knowledge of:
• General knowledge of Canada;
• Knowledge and understanding of consular services;
• Knowledge of the Afghan government structure and mandate of the Afghan Ministries
• Knowledge of general office procedures and practices
• Knowledge of MS-Office (including Word, Excel, PowerPoint, Outlook), Internet