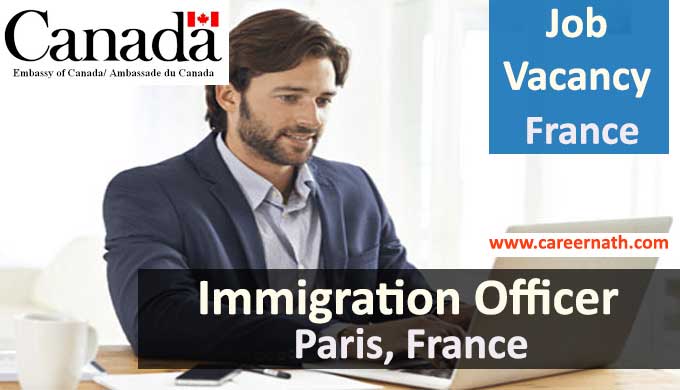 The Canada Embassy is inviting Job applications for the vacancy of 'Immigration Officer' in Paris, France which would entitle with all International benefits. Interested candidates can check their eligibility and apply to this job post.


Job Post: Immigration Officer
Salary: € 51 639 € annual gross + benefits
Location: Paris, France
Organization: Canada Embassy, Paris
Last date to Apply: 7th December 2020
Also Read: Receptionist Job Vacancy at Canada Embassy, Apply Now
Job Summary
Under the general direction of a Canada-based Officer, assessing applications and determining eligibility and admissibility for permanent or temporary entry under the Immigration and Refugee Protection Act (IRPA). Providing information to clients, their representatives, partners and stakeholders. This requires thorough knowledge of temporary and permanent resident requirements of IRP
Roles and Responsibilities:
Reviews, processes and assesses applications to determine whether clients meet eligibility and admissibility requirements for a Temporary or Permanent Resident visa or Permanent Resident Travel Document for entry to Canada under one of the immigration programs. Identifies missing information, uses local knowledge and conducts research through a variety of means. Maintains, verifies and updates client records on information systems and databases to ensure data and program integrity.
Exercises full-delegated authority and discretion when making decisions in accordance with legislation, regulations, policies, guidelines and procedures in approving, granting, rejecting or refusing applications for permanent or temporary resident entry to Canada.
Provides and explains eligibility, policies and procedures to clients, their representatives, partners and other stakeholders in person, by telephone and in writing. Drafts correspondence, prepares statistics, reports, briefings and presentations as required by management. Contributes to the development, monitoring and management of strategies and plans.
Identifies and refers high profile and problematic cases and cases of suspected violation of Canadian legislation to the Unit Manager or Program Manager. Reports information on trends of misrepresentation or non-compliance.
Participates in project teams, working groups and promotion and recruitment activities.
Provides interpretation or translation for interviews, documents, and other material as required.
Supervises staff, conducts performance management and may be involved in staffing exercises.
Performs other duties as needed.
Essential qualifications
Candidates will initially be selected based on the essential qualifications related to education, experience and the required linguistic profile. Qualifications constituting assets may also be taken into account in the screening of applications.
Candidates will have to clearly demonstrate, in their covering letter (750 words maximum) as well as their CV, the manner in which they meet these criteria by explaining clearly and concretely how they meet each criterion of the essential qualifications and where appropriate, the asset qualifications. Please note that it is not sufficient simply to assert that one meets the requirements or to list current responsibilities.
Short-listed candidates will subsequently be assessed in relation to the qualifications with the help of tools such as written exam, interview, role-play, simulation exercises, reference checks and /or psychometric tests.
Education:
University degree (equivalent to French baccalaureate + 3 i.e. a level 6 French diploma or Canadian Bachelor's degree)
Languages:
Bilingual (French/English), including excellent and professional-level writing, editing, and speaking capabilities
Experience:
• Minimum of 3 years of recent experience, i.e. acquired within the past 7 years of work experience in an office environment
• A minimum of two years of work experience using knowledge of regulations, legislation, or other rules or guidelines to analyze cases and make recommendations/decisions or understand client inquiries and provide technical or expert advice
• Experience in report writing
• Experience using a computer, word processing and spreadsheet software, electronic mail and other web-based applications in an office environment
• Experience working in a client-service environment, including the delivery of courteous and effective in-person or electronic service.
Evaluated merit criteria
Knowledge:
• Knowledge of IRCC mandate https://www.canada.ca/en/immigration-refugees-citizenship/corporate/mandate.html
• General knowledge of local laws i.e. family law, criminal law, etc.