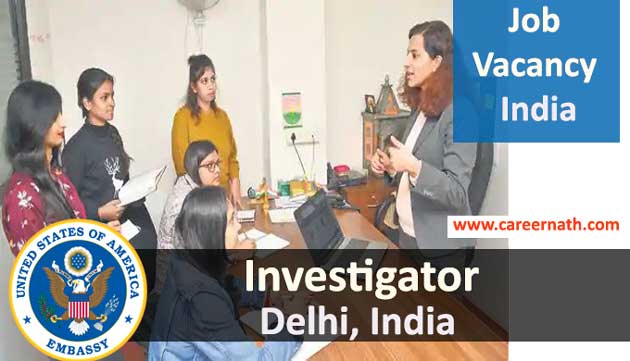 The US Embassy is inviting Job applications for the vacancy of 'Investigator' in New Delhi, India which would entitle all International benefits. Interested candidates can check their eligibility and apply to this job post.


Job Post: Investigator
Location: New Delhi, India
Salary: INR ₹1,535,489
Organization: US Embassy, New Delhi
Last date to Apply: 6th June 2021
Also Read: Secretary Job Vacancy at US Embassy in Stockholm, Sweden
Job Summary
Basic Function of the Position: The position is located in the Department of Homeland Security – U.S. Citizenship and Immigration Services (DHS-USCIS) at the U.S. Embassy, New Delhi.  The incumbent will serve as an investigator for DHS-USCIS and execute a full range of complex investigations related to applications and petitions submitted to DHS-USCIS where potential or confirmed fraud and/or national security concerns have been identified.
The incumbent will conduct regularly required extensive legal, background, and operational research.  S/he will analyze information and draft investigative and intelligence reports as required.  The incumbent will be required to communicate independently with host-country, U.S. government, and other government officials.  The incumbent will also perform other duties as assigned by the agency.



Essential qualifications
EXPERIENCE: Five years of investigative work experience in a U.S. government entity, host-country government, other government, or private security is required.  The investigative work experience should include experience in open-source electronic research, interviewing, report writing, and trend analysis.
EDUCATION: Completion of a Bachelor's degree in Political Science, Law, Criminal Justice, Criminology, or Forensic Science is required.
LANGUAGE:  
Level 4 (Fluent) in English (Speaking, Reading, and Writing) is required. This may be tested.
Level 4 (Fluent) in Hindi (Speaking, Reading, and Writing) is required.



How to Apply
All candidates must be able to obtain and hold a public trust clearance.
To apply for this position click the "Submit Application" button.  For more information on how to apply visit the Mission internet site.