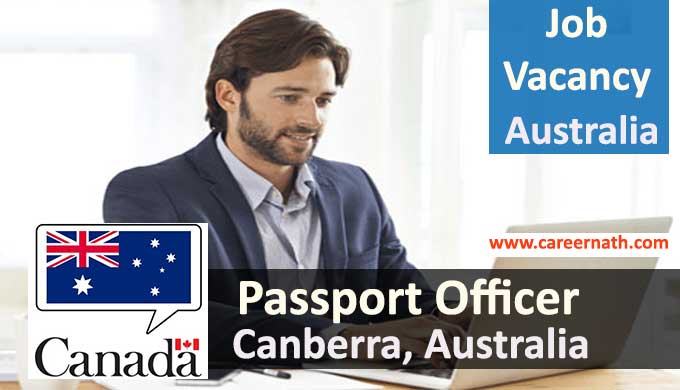 The Canada Embassy is inviting Job applications for the vacancy of 'Passport Officer' in Canberra, Australia which would entitle with all International benefits. Interested candidates can check their eligibility and apply to this job post.


Job Post: Passport Officer
Salary: 86 190 $
Location: Canberra, Australia
Organization: Canada Embassy, Canberra
Last date to Apply: 3rd March 2021
Also Read: Receptionist Job Vacancy at Canada Embassy in Canberra, Australia
Job Summary
Under the general supervision of the Senior Consular Program Officer, the incumbent of this position provides passport, and citizenship service for the mission's consular jurisdiction (4 states in Australia and 10 Pacific Island countries); provides notarial service; provides administrative services and support for passport, citizenship and consular services at the mission; responds to enquiries on passport and citizenship matters; and performs other duties as required.
Essential qualifications
Education:
• Successful completion of secondary school; or an acceptable combination of relevant experience, education and training.
Language:
• Advanced knowledge and ability to work in English (written and oral).
Experience:
• Recent experience in the provision of client services in compliance with legislation and regulations.
• Demonstrated experience working with a range of office equipment, including computers and software.
• Relevant experience dealing with people in distress or in crisis.
Knowledge:
• Knowledge and proficiency in computer software; including Excel and Word.
• Some knowledge of the objectives, functions, and specialized activities related to citizenship/passport services.
• Some knowledge of Canadian and local laws, regulations, and services in areas such as services falling under provincial jurisdiction in Canada (social services, registration of birth, marriage and deaths, driving licences, medical and social services, etc.).
Abilities/skills:
• Ability to listen to clients and demonstrate effective customer service.
• Work effectively in a team environment with minimal supervision and demonstrating good decision making skills.
• Ability to draft letters, and other correspondence in order to respond to requests received from the public.
• Ability to analyse and evaluate information effectively to provide advice and recommendations.
• Prioritize and organize workload, multi-task and work effectively under pressure.