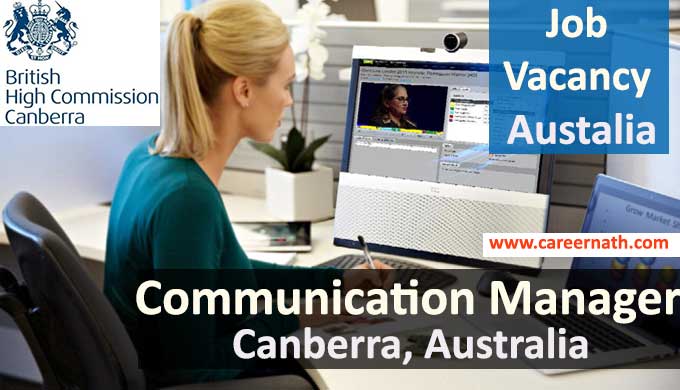 The British Embassy is inviting Job applications for the vacancy of 'Communications Manager' in Canberra, Australia which would entitle with all International benefits. Interested candidates can check their eligibility and apply to this job post.


Job Post: Communications Manager
Salary: $105,485 per annum + leave loading and 11% superannuation
Location: Canberra, Australia
Organization: British Embassy, Canberra
Last date to Apply: 27th January 2021
Also Read: Receptionist Job Vacancy at Canada Embassy in Canberra, Australia
Job Summary
Creatively use communications to support the British High Commission's strategic objectives. Manage a small team to develop, deliver and evaluate external communication activities across digital, social, news and broadcast communication channels.
Roles and Responsibilities:
Work with your team to create and deliver communication plans (in line with Government Communication Service – GCS  – standards) to support key areas of the British High Commission's priorities in Australia: including: COP26 climate leadership; the Free Trade Agreement; defence engagement; high profile Ministerial and Global Britain visits.
Build strong relationships across the British High Commission and the Australia network, understand UK priorities and how external communication activity can add value and support delivery.
Engage effectively with a range of digital, print and broadcast media (proactively and reactively) to deliver positive coverage for announcements and visits.
Stay abreast of emerging issues / news developments; coordinate with relevant teams to create reactive statements and providing communications advice to the senior leadership team. This will include media handling for crisis response and consular cases.
Lead social media content strategy development and delivery across priority areas. Create copy for our owned channels (gov.uk, social media) organise press briefings and interviews. Support the development of speeches; talking points; social media content for the High Commissioner.
Build strong relationship with London communication teams; working to amplify their content across Australian channels and identify creative opportunities for delivery across Australia.
Evaluate communications activity (in line with Government Communication Service – GCS – standards); judging when to undertake light touch or detailed analysis. Drawing out insights and improving communications output.
Manage communication team members, working with the Head of Network Communications to set direction and ensure delivery.
Support the planning and logistics for VIP visits including senior UK Government officials; creating and delivering a strategic media/comms plan; briefings; supporting content/materials; media monitoring.
Essential qualifications
Bachelors degree (or higher) in Communications, Journalism or Public Relations
Minimum 4-5 years work experience in a communications role
Excellent writing, proofing and editing skills for both traditional and new media
Demonstrated experience in planning, delivering and evaluating communications activity/campaigns
Experience in managing corporate or government social media account(s)
Knowledge of Australian media landscape; ability to source and maintain a network of media contacts
Line management experience
Experience with Adobe suite
Experience using a website content management system
Ability to create rich media content for social media eg: using smart phone for photography, video and editing; creation of infographics/gifs.